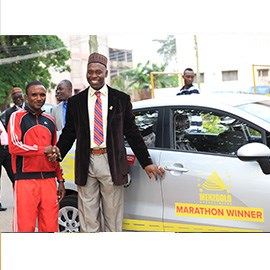 START:

December 4, 2016

DURATION:

2 weeks
events
The Profile of a Remarkable Athlete
In a little while before now,
A blissful conjugal meeting birthed a son of unknown renown.
Unaware of his tomorrow,
He narrowed through the thick and thin of life like a shadow.
Then one day,
While in a state of full-fledged dismay,
T. I. Ahmadiyya Senior High School fished him out in gay
To begin to feed on giraffe-like athletic prey.
So he started unveiling his prowess in athletics,
While he pursued his academics
In an overwhelmingly supportive atmosphere
That perhaps exists nowhere in this sphere.
Three successive years – 2012, 2013 and 2014 – saw his victory
In Inter-school Cross Country,
While 2013 sports chronicles heralds his regional record entry
In 1500m race without query.
Though 2014 marked the end of his secondary education,
He was still in the circles of athletic competition.
Millennium Marathon lured his long pedalling legs of conquest
And he responded affirmatively in 2016 and 2017 to satiate his quest.
His success in 2016 landed him a brand new car.
Similarly, he took GHC20,000 for winning in 2017 without scar.
As if to prove the genuineness of his agility gathered in a jar,
He won the 2016 Milo Marathon to overcome that bar.
At this juncture, knowing this eminent long-distance athlete cannot be a taboo;
He is Malik Yakubu.