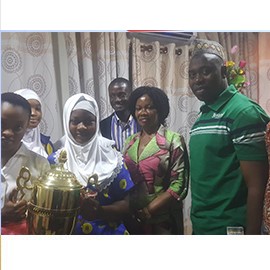 START:

December 4, 2016

DURATION:

2 weeks
events
A Visit to Ashanti Regional Director of Education
The real AMASS debating club paid a courtesy call on the Ashanti Regional Director of Education at her office today 23/10/2018.
The club took the opportunity to showcase the trophy it won in the maiden Luv fm high school debate contest on 19/10/2018.
The real Amass Phobians beat the "akatakyie" boys in the final of the high school debate by 226 to 223 marks to emerge as champions.
After beating OWASS alliance school St. Louis SHS( SLOPSA) mercilessly in the quarter finals it looks as if the victory thirsty girls led by
the supreme commander Asakia Hawawu Hanan supported by Meredith Appiah from the Phobia land was not perturb by the reinforcement
team from Owass and in fact showed them no mercy as the SLOPSA girls shout "p-u-s-h a-k-a-t-a-k-y-i-e " as their Akatakyie boys shout
"p-u-l-l s-l-o-p-s-a".

I must say the Phobian girls put up a fierce defense that gave the Akatakyie boys a run for their lives.
PHOBIA CHAMPIONS!