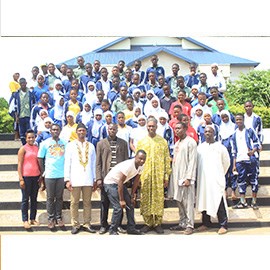 START:

December 4, 2016

DURATION:

2 weeks
events
Visit of T. I. AMASS, Salaga to REAL AMASS
Sixty-two students of the General Art Department of Salaga T.I Ahmadiyya Senior High School visited Real Amass on Friday 18th November, 2016 as part of an excursion to the southern sector. They were led by the HOD of General Arts Department and two other tutors of the school.
They visited Kakum National park, Cape coast and Elmina castle, university of cape coast and the newly constructed Kwame Nkrumah Circle popularly known as "New Dubai".
The main purpose of their visit to Real Amass was for them to familiarize themselves with the Real Amass environment and receive the wise counsel of Ahalji Yakub A.B. Abubakar.
Alhaji Yakub A.B. Abubakar shared his own life story with the students and challenges them to work hard to be successful in all aspects of their lives especially in their academics.
The HOD of General Arts Department of Salaga T.I Ahamadiyya Senior High School thanked the headmaster and the entire Real Amass family for the wonderful reception. He also pledges their support for Real Amass anytime they are called upon.
The excursion team left Amass for Salaga at about 12:00 noon after they took group picture with the headmaster and his entourage and refreshment provided them.