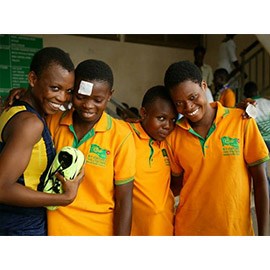 START:

December 4, 2016

DURATION:

2 weeks
events
AMASS Wins 2016 Super Zonals
T. I. Ahmadiyya Senior High School 'AMASS PHOBIAA', as arguably the BEST SPORTS school in Ghana has yet again won SUZO in both the boys and girls divisions in just ended 2016 Inter-Schools and Colleges Athletics competition of the Ashanti Region at the Baba Yara Stadium on Friday February 26.
Amass have won it 8 consecutive times the last eight years in the boys division whilst they reclaimed their trophy from K-Wey Gey Hey last year and thus makes it 7 wins in the last eight years in the girls division as well.
Not only did they win it but the huge gap between them and second placed schools will be a course for concern for other P.E. Tutors of rival schools.
Amass chalked 155 points in the boys division as against an improved JAPASS who came second with 86 points whiles Opoku Ware in 3rd position with 53 points, Osei Tutu placing 4th with 52 points respectively.
In the girls division Amass won the title with 176 points with their closest rivals and dethroned Champions K-Wey Gey Hey securing 112 points whilst Kumasi Girls placed 3rd with 98.5 points. Islamic SHS placed 4th with 68.5 points whilst JAPASS secured a 5th place finish with 54 points.
Amass phobia was just a delight to watch and was able to break some of the records according to Globalsportsgh.com reporter and now have an enviable achievement in Amature Atheletics in the country.
The competition 'Inter-Co' began about 14 days ago with the zonal qualification with the top six schools of the five zones qualifying to the grand finale dubbed the Super-Zonals.
These are the full results of the 2016 Super Zonals;
BOYS
1. T.I. AMASS 155 PTS
2. JAPASS 86 PTS
3. OWASS 53 PTS
4. O.T. 52 PTS
5. KASS 48 PTS
5. PREMPEH 48 PTS
7. ADUMAN 30 PTS

GIRLS
1. T.I. AMASS KSI 176 PTS
2. K-WEY GEY HEY 112 "
3. KUGISS 98.5 "
4. ISLAMIC 68.5 "
5. JAPASS 54 "
6. KOSS 36 "
7. KASS 32 "